Motorized spindle of milling machine BCES-BT50A-4022-750 / 6000
● Motorized Motor: Asynchronous
● Spindle Interface:BT50
● Speed Control Accuracy:±1rpm
● Torque:560N.m
Performances
Start
| | | | | | | |
| --- | --- | --- | --- | --- | --- | --- |
| Rated Power | Rated Torque | Rated Voltage | Rated Current | Rated Speed | Max.Speed | Poles |
| 22 kW | 280 N.m | 380 V | 43 A | 750 rpm | 1500 rpm | 4 P |
| Stator Resistor | Stator Leakage | Rotator Resistor | Rotator Leakage | Exciting Resistor | Mutual Inductance | Rotary Inertia |
| 0.286 Ω | 1.245 mH | 0.43 Ω | 2.675 mH | 0.438 Ω | 100.185 mH | 0.322 kgm2 |
Angle
| | | | | | | |
| --- | --- | --- | --- | --- | --- | --- |
| Rated Power | Rated Torque | Rated Voltage | Rated Current | Rated Speed | Max.Speed | Poles |
| 22 kW | 280 N.m | 380 V | 43 A | 1500 rpm | 6000 rpm | 4 P |
| Stator Resistor | Stator Leakage | Rotator Resistor | Rotator Leakage | Exciting Resistor | Mutual Inductance | Rotary Inertia |
| 0.286 Ω | 1.284 mH | 0.43 Ω | 2.928 mH | 1.297 Ω | 114.404 mH | 0.322 kgm2 |
Performances Curve

Overall Dimension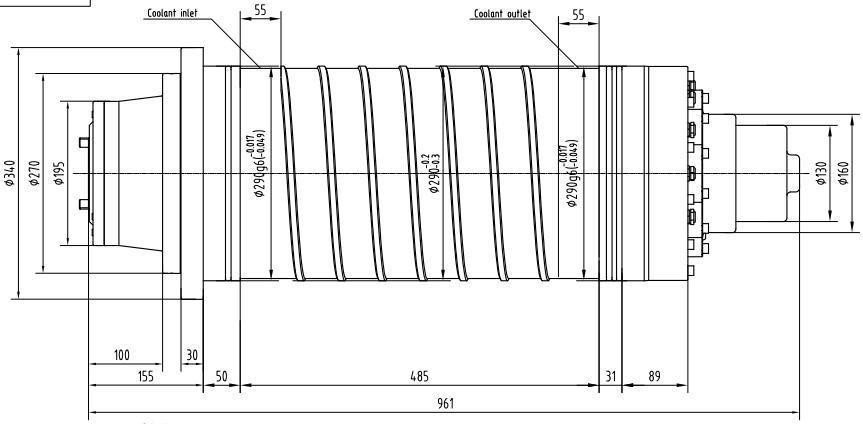 Front View

Standard Configuration
1, the front bearing 7020×4, the rear bearing N1016;
2, encoder 20bit, bus output;
3. Dynamic balance level G1;
4, Tool holder method hydraulic;
5, Tool holder pressure 6 ± 1Mpa, bearing air curtain protection pressure 0.15-0.3Mpa.
Select configuration
1. Tool internal cooling function;
2. electric spindle drive 30Kw;
3. constant temperature water cooler 2.5Kw;
4. Hydraulic power unit BCH-1P1M2-2D5.