Overview
Hydraulic servo control system can give full play to its advantages of electron and hydraulic pressure, not only can control big moment of inertia and large power or torque, but also has high precision and quick response ability, good flexibility and adaptability, and therefore which has been widely used, such as injection molding machine, die-casting machine, hydraulic station and hydraulic press, etc.
CTB hydraulic servo control system completely according to the requirements of flow and pressure, provide suitable pressure and flow accurately and quickly, achieve oil supply as required, fully meet the fast, precise, energy-saving requirements of hydraulic equipment, reflect perfect combination of control system and hydraulic mechanical system with universality, flexibility and intelligence, provide perfect solutions and reliable products for hydraulic equipment manufacturers.
CTB special servo control solution for hydraulic servo equipment has been successfully applied in domestic hydraulic equipment manufacturer, can be widely used in injection molding machine, die-casting machine, hydraulic station, and the friction welding machine, etc. As domestic leading manufacturer of servo control system, we will provide the first-class solutions that help you to improve the performance, reliability and precision of the machine, as well as the overall innovation and quality.
Function characteristic
1. Drive built-in Pmotion motion control module, can use ladder diagram or C language programming;
2. Drive built-in pressure PID optimization control algorithm;
3. Motor structure design of inner shaft type, more convenient for pump installation, save space, reliable operation;
4. Motor with inner shaft and external shaft structure, suitable for all kinds of gear pump, plunger pump, screw pump, and other constant delivery [displacement] pumps.
5. Realize full closed-loop control, position , speed and torque control;
6. Control precision:Position:±1PLUSE
7. Quick response of servo control;
8. 200% of the overload ability, faster response and more efficient
9. Energy saving, high efficiency, saving cost of servo control;
10. Servo control can make stable oil temperature;
11. Servo control can make stable and reliable process pressure maintaining.
ENERGY SAVING EFFECT
1. Low energy consumption
SMP servo control system can replace conventional hydraulic valve-controlled system, high-performance servo motor drive constant delivery [displacement] pump, achieve pressure and flow control of hydraulic system through speed regulation, revolution of control process completely solve the high energy consumption problem of hydraulic equipment. Compared with traditional valve control system, SMP servo control system can reach as much as 70% of energy saving index, which is the biggest highlights of SMP system.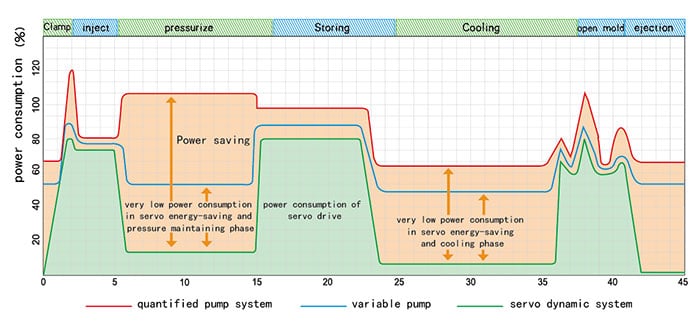 2. Performance comparison

Market orientation
1. CTB products are suitable for all kinds of high-end industry application
a. Injection molding machine
b. Friction welder
c. Hydraulic station
d. Hydraulic press
e. Electric upsetting machine
f. Die casting machine
g. Extruder
2. High cost performance, obvious price advantage in servo market
3. Energy saving, cost savings for production enterprise
4. With different communication interface, can communication with all kinds of touch screen, the text box.